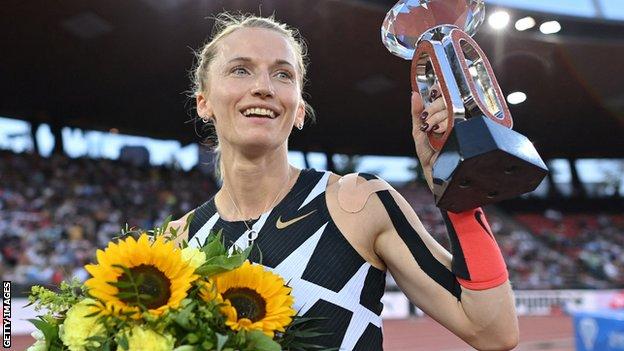 The Diamond League has banned Russian impartial and Belarusian athletes from competing in its occasions following the invasion of Ukraine.
World Athletics banned athletes, assist personnel and officers from the 2 nations earlier in March.
Russian athletes had competed as Authorised Impartial Athletes at occasions after the widespread doping scandal within the nation in 2015.
The Diamond League mentioned the ban would apply "for the foreseeable future".
"This displays the sensible and logistical points conferences could face if ANA athletes from Russia and athletes from Belarus had been to be invited to compete," a Diamond League assertion mentioned of the ban.
Russian and Belarusian athletes have additionally been banned from the World Athletics Indoor Championships, which begin in Belgrade on Friday.
The primary Diamond League meet of the season takes place in Doha on 13 Might.